NEW Self-Paced Goldwork & Silk Shading Online Course
30th June, 2020
Today, we launch our first 'Next Steps' self-paced RSN Online Course, the eighth Online Course in partnership with David and Charles. 'Next Steps: Goldwork & Silk Shading', taught by RSN Tutor Chrissie Juno Mann, will work you through creating this stunning butterfly design to add sparkle to your home, using cotton and metallic threads.
Watch Chrissie introduce the course
Goldwork and Silk Shading are two techniques that combine to glorious effect. In this intermediate follow-on course, you will learn a variety of hand embroidery stitches including split stitch, long and short stitch, diaper stitch, S-ing, couching, cutwork and more. The exclusive kit that accompanies the course includes all the materials you need to create the embroidery with Chrissie and, along the way, you'll receive lots of helpful tips to ensure a professional finish.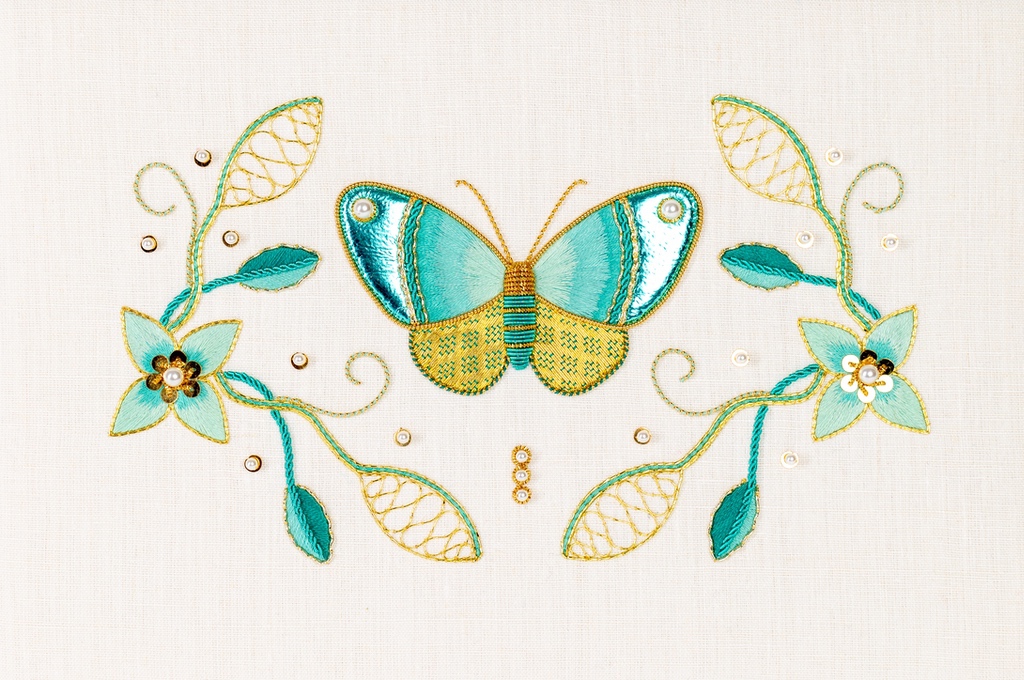 Chrissie can't wait to share this Course with the world: "I am very excited that my Goldwork and Silk Shading 'Turquoise Butterfly' is being released and shared with the world of stitch, as I completed the piece and filming prior to lockdown. Traditionally, the butterfly is a symbol of transformation, endurance and hope, so I think it's rather apt that this little butterfly can finally find its wings, after what has been a very strange and difficult time. I hope that it will represent a transition to more positive things ahead."
As with all of the RSN Online Courses, each course uses market-leading online learning technologies with video instruction, step-by-step written and photographic guides and the ability to interact with other students on each course.
The Course is accessible for twelve months so you can take your time, relax and be mindful of what you are doing, revisiting certain areas that you might have found challenging, all in the comfort of your home. Since lockdown, the RSN Online Courses have been more popular than ever, with some designs selling out at the end of April, now thankfully restocked.
We know that you will enjoy this new RSN Online Course as much as Chrissie had creating it for a global audience and she tells you more about it here.
Latest news